Sorry for all you dial-up folks out there. This one's a bit photo heavy.
Several years ago, these sedums came along for the ride when someone gave me a bunch of hostas they were thinning from a family plot in a local cemetary. This year, for the first time, they are in a happy home. Lots of sunshine and no stress. What I love about these sedums is how pink they are, compared to others that look like the same variety. The bumble bees love them, too.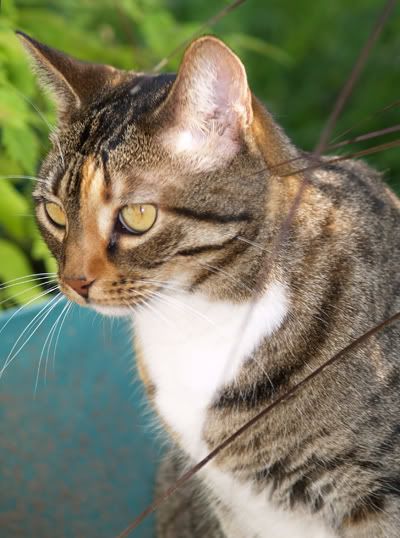 Here's our female cat, Hailey, sitting on the garden path by some ornamental grass. Why do cats start walking right at the camera the minute I crouch down for a picture?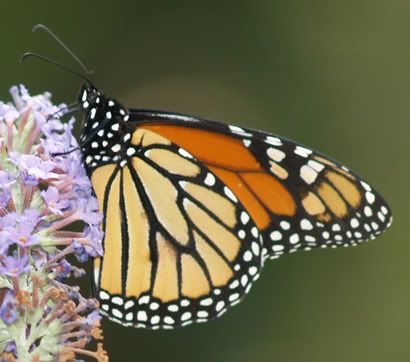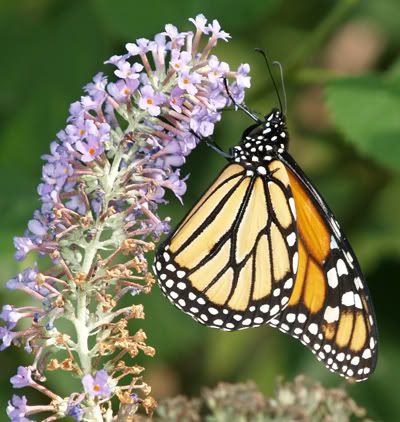 A couple shots from recent butterfly stalking in the garden. Yeah, I know, the butterfly shots are all starting to look the same. I think the thrill is in the conquest for me.
Finally, some knitting progress pics
I would like the skinny scarf to be about 6 feet long. It's about 5 feet right now. Anyone with the perfect name for this, let me know. By the way, the Yarn Botanika yarn has a magical quality of reproducing on the ball
while you knit!
It's true! This ball still feels about as heavy as when I started! Amazing!*
If I hadn't stressed my left wrist on the sweater for the Little Emperor, I would have been done by now.
The working name for the boy-sized version of the Adirondack Pullover is Foothills. It still needs sleeves, a collar, a good jostle in warm water to make it submit to my will. I think it'll get shelved a month or more while I work on some stuff that doesn't stress my hands. I'm getting a feeling that my little guy is on a big growth spurt, too. I just dragged another box of Owen's old clothes out of the closet, and it's startling to see what almost fits!
*
Click here to see close-up of scarf stitch.