Yesterday evening I finished a second repeat of the pattern, but rearranged some of the colors. The first photo shows the whole swatch, with two different repeats. This helps you get a sense of how it reads over the whole garment.
The next two photos show each of the two individual variations separately, to help clarify what I'm talking about!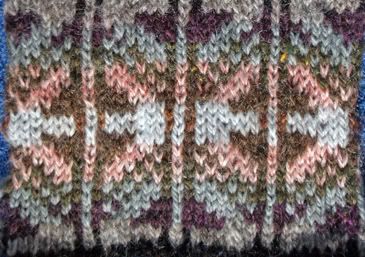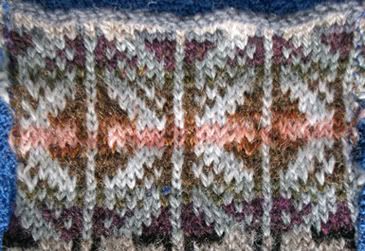 In the top photo, there is more pink.
In the second photo, I swapped the pink and palest grey, and reduced to pink to two rows in the center, rather than 4. The other lighter value yarns that form the back ground had to change their relative sizes to work out. The second version uses four rows of the lighter brown, in the center with the pink. V.1 has only two rows of the lighter brown.
At the bottom and top of each repeat, I changed my mind twice. First, I had black only in the two rows that begin the repeat. I decided to use four rows, thus edging the dark purple triangles. But the black looks too dark in person, so I thought about finding a dark grey. At the end of V.2 I subbed in the darkest grey I had on hand, which isn't dark enough.
Feedback appreciated! Owen already proclaimed the whole set of colors ugly. But he's an 11 year old boy, so I'm not giving too much credence to his opinion. He hates all the pink.
What I'm leaning toward is buying a very dark grey or brown to replace the black next to the dark purple. I also have on hand a dark blue which has a lot grey to it, which might do something interesting to the whole thing. Next, possibly buying a muddier pink (or giving some of mine a bath in tea or tan dye), to sub for the pink I have. Otherwise, I'm happy with the purple and loden on shades of grey. This project will be a vest for me, knit in the round with steeks at front and armholes. Corrugated ribbing all around. Pretty traditional in style and shape.
Weigh in with an opinion. If you only ever like jewel tones or primaries, obviously this isn't going to be a design you will like. Given that I
love
muddy tertiary colors, I'm interested in hearing what you think of these choices and their placements.
Thanks in advance!