Alpaca Fest Loot!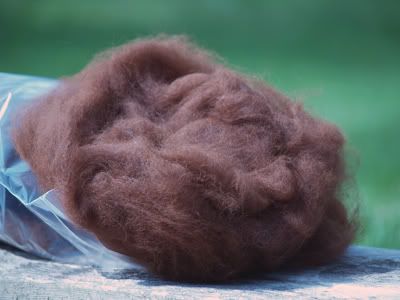 Some times you find an amazing bargain!
L&L Trail's End Alpacas, Richland Center, WI
I bought two 4 ounce bags at $10 each!!!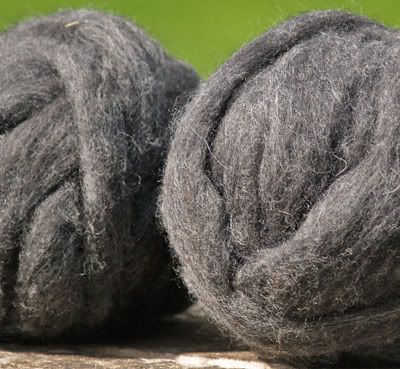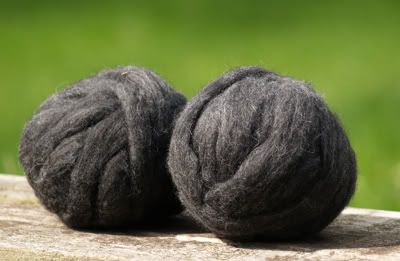 Sometimes it's not necessarily a great bargain
, but a nice find never-the-less. 4 oz of lovely charcoal grey alpaca roving.
It's not even always alpaca!
This is Blue-Face Leicester from Sandy's Palette, Mineral Point WI. I got 8+ ounces of this roving. I know these colors won't do it for most of you blue-lovers out there. But I like the warm autumn palette. I'm curious to see how they mellow out when spun. Last night, I finished the last of the Mossy Merino/Yak and, of course, launched right into some of the new stuff. When I opened one bundle of this roving I was bit anxious about the spinnability of it. At first I was afraid it was just
this side
of felted. But with a bit of coaxing, it loosened up nicely.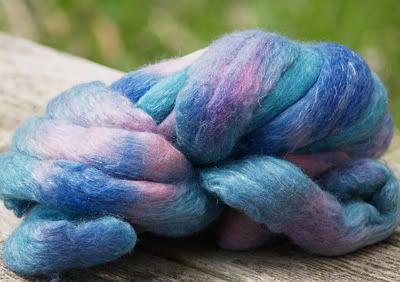 Also from Sandy's Palette, about 4 oz of Merino/Tencel blend in a colorway that is sure to be a crowd pleaser. I almost think this is too pretty for my taste, but I'm perverse that way.

In other news

Here's the last skein of the Mossy Merino batch. It's still a bit damp, but I'm impatient.
Here's the bunch of it all together. I didn't count yardage, but I think the weight is about 250 grams fingering weight 2 ply. Overall, I'm pleased with how this turned out. Now, to pick a project for it... hmmm.
Knitting
The Knit-What-You-Spin challenge project, a basic garter stitch scarf. I made much progress on this at Last Saturday Knitting on Saturday. I get embarrassed when people want to look too closely, because I can see now what a crap job I did plying this yarn. But, it's a lovely bunch of colors and the garter stitch hides the flaws pretty well.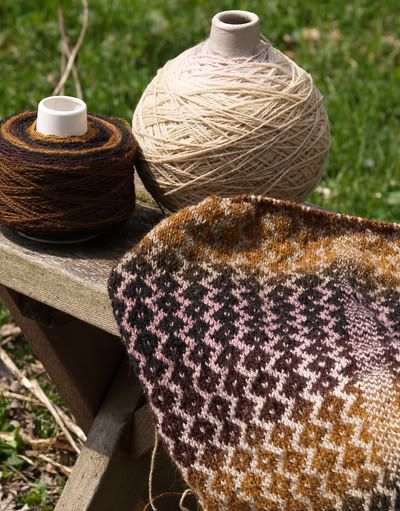 The Kauni Cardigan hasn't seen much action lately. I'm in the
Pay Attention Zone
now. Decreasing for both neckline and arm hole and at two different rates, and the neckline one is alternating between every third and every fourth round, you know, just to make things more complicated than they have to be. I need more alone time at home for that.
Last Saturday Knitting was a hoot, as usual. What a great group we've got! There was one young woman across the coffee shop, looking studiously at her laptop, who kept turning around and giving us the evil eye when we laughed uproariously. What, she doesn't think dog poop is funny? Or maybe she thought she was in the library. Whatever. The coffee shop people seem happy to have us.
Finally
I noticed this nest in the yard while out taking pics of loot.
I think it's new this year. Trouble is, it's in a buckthorn tree. Buckthorns are a nasty invasive species, brought to the US as an ornamental shrub. I spent many long hot sweaty days reclaiming our yard from buckthorns when we first bought this house. This one is growing on the fence line, just into our backyard abutter's yard. As soon as I think the nest is empty, I'm going to do what I can from my side of the fence to take down this cluster of buckthorns. Do you know how much I hate those trees? Don't get me started.