Last night I started spinning the Grafton Fibers Corriedale Cross I bought at the Fiber Studio in NH. Today I was able to spend some spinning time here and there between spats and obligations. I took the bobbin out to the backyard climber and put it in the setting sun to bring out the warm purples. With the flash in a darker place, the purples vanished and it appeared too blue. I bought about 7 oz of this. Wasted a bit right at the outset, but I hope to get something like mittens and hat or scarf out of it when I'm done.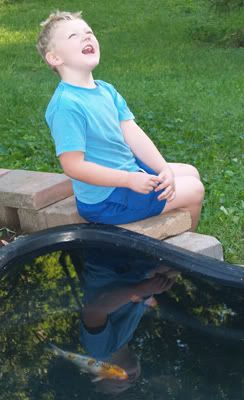 While I was out posing my bobbin, The Little Emperor was hanging out with the big koi named Black Spot. Here they are, enjoying a truly beautiful evening. The kind of evening that makes you want to take a three mile walk.
Maybe I'll do that now.