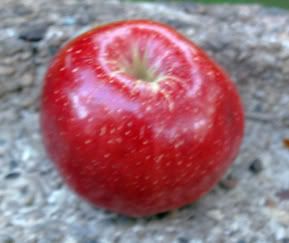 Remember The Apple? Here it is, right after I picked it and right before I ate it. It was pretty good. Maybe next year we'll get enough for the whole family.
The two skeins of yarn we dyed the other day are fairly different from each other. I'll probably have to alternate rows from them in whatever I make.
Here's a sample from one of them. I'm not sure yet what to make of it, but I'm thinking maybe a hat. I do like hats.
We had a lot of rain in the last 24 hours, and more on the way this evening. This afternoon, during a break in the weather, I was in my basement lair putting the finishing touches on a project I need to have ready to photograph this weekend. The Little Emperor was playing with the neighbor. When I emerged from the basement to see why it was so quiet, this is what I found: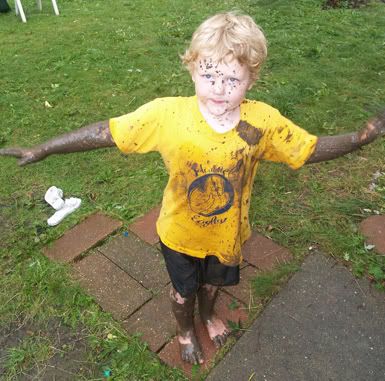 Fortunately, he had not come into the house looking for me! The neighbor girl, who is 8 and should have known better, had gone into her house to change and did not wash her feet first. Apparently, she tracked mud all over and her step-mother was
not
happy. I don't mind kids playing in mud, but only in a designated spot and with a clean-up plan in place first.
We did the registration stuff for the Little Emperor for kindergarten today! Yay. Tomorrow Owen and I have to go down to the middle school and get him squared away. Then I just wallow in anticipation of Sept. 5.
This month's reading:
Guns, Germs, and Steel
by Jared Diamond. The history of everything! in less than 500 pages! Kidding aside, it is fascinating reading.