It's time once again for Whats In My Knitting Bag? Click pics to make them bigger.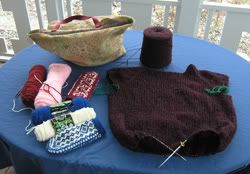 On the right is the purple tweedy top-down textured raglan. The body is nearly long enough and then I hope the sleeves and neck will go quickly.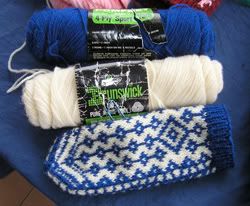 This is the successful mitten, worked in ancient sport weight yarn. It's really more child size than adult. To upsize to adult, use DK or worsted weight. This will be a Garter Belt pattern eventually.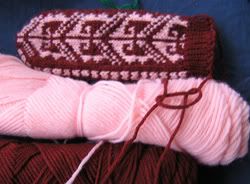 This is a mitten I was not happy with. I could pontificate on why this pattern failed, but I'm sure you have your own opinions. The simple explanation is that there isn't enough repetition. The brain likes repetition to establish a pattern and this doesn't do that. The brain also likes the repetition to be interrupted before it gets boring. But that's another story.
This photo shows the progress on Scott's tweedy sweater. About 11 inches. Although the yarn is thin, the knitting goes quickly. This is a good project for waiting rooms, watching tv, or other multi-task knitting. The other thing in the picture is a first attempt at creating a felted boot liner for Colin. It's surprisingly hard to find replacement liners for kids' boots. One store clerk told me it's cheaper to buy new boots. I'm not optimistic about this beginning, but have a Plan B in mind.
The last picture shows the temp this morning while I was taking all those pictures...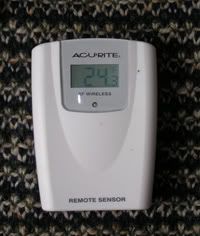 That's in Fahrenheit, kids! Welcome to a typical Wisconsin late November morning.