Scott's been in Chicago since Monday night, taking a class related to his work. He gets back late tomorrow night. Colin's been running a low fever and coughing chest-rattling phlegmy coughs. I'm fighting a mild cold and so is Owen. In a casual scan of blogs, I've read that people all over seem to be sick. I guess it's the season.
I haven't got much knitting done. But did manage to order some yarn online: just what I needed!
Colin seems to be on the mend, so maybe he can go to his morning preschool tomorrow. His appetite has returned and his energy level is a little more normal.
I hope to start on some fun new patterns soon. That is, if I can ever get a minute to myself.
Last night I made a pair of really wild pajama pants to replace a pair that was self-destructing. The great thing about pajamas is being able to wear colors and prints I might not choose to wear in public.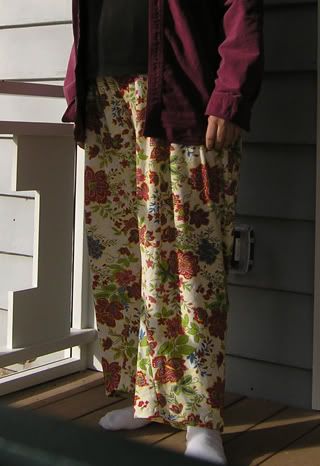 This was a real quick'n'dirty project. I had bought the fabric from a sale heap at Hancock Fabrics. It's a t-shirt knit with the big floral print. Sometimes they get flatfold bargains that I think are remaindered from the garment biz. The pajamas I took apart to use for a pattern had biased with several years of washing. Of course I didn't take the time to properly draft a new straight pattern, so these pajamas have built-in twist: the seams wrap around the legs. Oh well. Maybe this fabric will bias in the other direction and they'll straighten out with time. In any case, they are very comfortable and do not have big holes forming all over.
I'll leave you with a Halloween treat.