This is the Fountain Lace pattern from Barbara Walker's
The Craft of Lace Knitting
, which I'm sure was rolled into one of the re-releases of her stitch dictionaries. I just don't know which one. I am loving this so far for several reasons.
1. I like a knitting pattern that gives a pretty good effect for minimal mental outlay.
2. This stitch pattern has only four "action rows."
3. I'm using some yarn from a sweater I got at the Digger's Outlet last week. So, my cost for this project will amount to about 25 cents when it's all done. If that. The sweater was a wide-ribbed cowl neck with the biggest cowl I've seen in a while. Seriously, that cowl could almost double as an afghan. (OK, I'm exaggerating. But just a bit.)
4. The yarn is proving to be very lace-friendly. The manufacturer's tag says that it's 43% rayon, 39% nylon, 10% angora rabbit, and 8% cotton. I'm honestly not feeling the synthetic content at all.
So, I was barely out there, taking my pictures, when my "helper" arrived.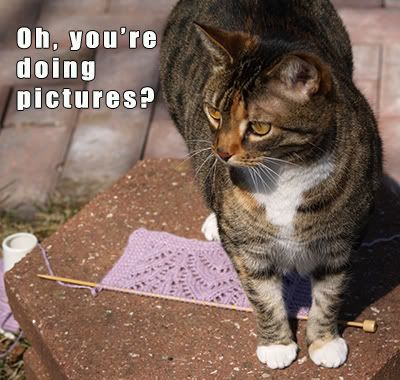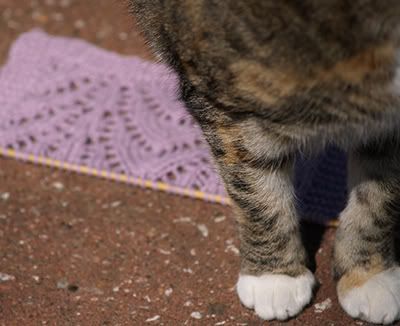 All Your Lace Are Belong To Me
It's a nice sunny day for a roll on the bricks, eh? Don't you just want to rub that belly?