Christmas Stockings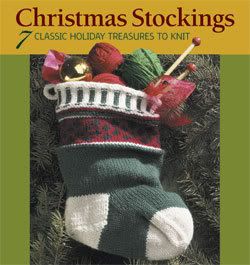 7 Classic Holiday Treasures to Knit
Edited by Elaine Lipson
Intereweave Press
Contributors
Linda Ligon
Lynn Gates
Nancy Bush
Susan Strawn Bailey
Dee Lockwood
Ron Schweitzer
Candace Eisner Strick
Ordering information here
E-books and patterns are a great innovation for knitters, designers, and publishers. While I will always love the substance of a physical book, the handiness of instantly downloaded pdfs cannot be denied. The customer can buy the book at any time, even at midnight on a weeknight, and cast on right away. The designer can self-publish with much less overhead than conventional printing demands: no inventory, no upfront costs for large print runs, and the ability to instantly make corrections in files if necessary. Many of those same advantages carry over for the established publisher. It suddenly becomes possible to envision a world in which a book need never go out of print.
It's no surprise that Interweave Press is jumping into this market. They have been steadily adding to their catalog of down-loadable individual patterns over the last year and now are branching into e-books.
Christmas Stockings
contains 7 of the most popular patterns from the original 2001 print book of the same title. (The original contained 18 patterns.) A book like this, with a strong seasonal emphasis, is a great choice for pdf download sales. If you start now, you might make all 7 stockings by late December!
At $14.95 for the pdf download, the price is reasonable, especially considering the book also contains the supporting technical information that Interweave includes in print books: illustrations of general knitting techniques, appendices of methods and materials, and sources for the yarns.
The patterns represent a range of techniques, from Fair Isle to cables, lace to Bavarian twisted stitches. The skills required range from basic to advanced-intermediate. The patterns offer generic yarn recommendations, i.e. a class of yarn with yardage per 50 or 100 grams, fiber blend, and any particulars about the original yarn that would affect substitution choice.
Above all else, though, these look like fun projects. They're the kind of projects that are enjoyable for the knitter and likely to be appreciated by the recipient. Christmas stockings offer all the fun of socks with two great advantages: 1. they are often worked at a bigger gauge, and 2. you only need to make one of them!
Happy knitting.