Over the last couple of days I finished putting the binding on Owen's quilt. I had enough of the dark blue sashing fabric for binding on the two long edges, but not enough to do the ends. "No problem," I thought, "I'll just pop back over to Hancock Fabrics and pick up some more." Ha! I ended up with a different dark blue, in a different 100% cotton fabric. But whatever, it's done.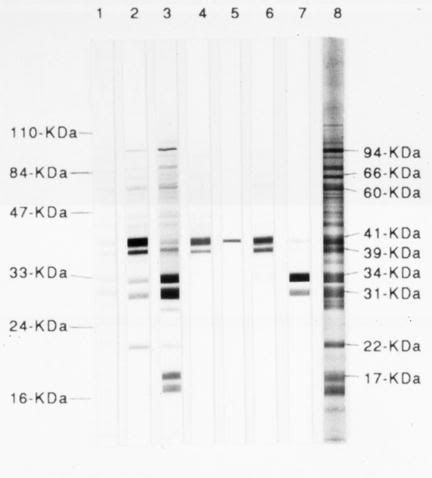 While I was taking pictures, I was reminded of my husband's grad school days, when pictures like this one occupied much of his time. (I just lifted that one off someone's website, not sure whose proteins are being run through that column!)
I briefly considered taking a picture of Owen's old favorite comforter, but thought better of it. In 1980, when I moved into my first apartment in college, my apartment mates and I took over the lease of a bunch of students who were leaving early. They left a bunch of crap in there, and because it wasn't a landlord-approved transition, there was no official clean out. Among the items were a couple of ugly 70s comforters. They were quite dirty and unappealing even then. I took them to the laundromat (the one on 53rd and Ellis with lots of huge front loaders) and washed them and used the better one until it fell apart. The uglier one, I kept in the car and took camping etc. After Owen moved into his first real bed, somehow he ended up in possession of it. I figured it would be temporary. As it turns out, it became the favorite comfort-object that he moved on to, after the baby blankies. Now, it is just about disintegrating. It has been washed so much and is so threadbare, that I think only molecular memory is holding it together. It definitely needs another washing now, but I don't dare. Owen tells me that he won't be parting with the old one, just because the new quilt is done. That's ok. As long as it stays in his room.