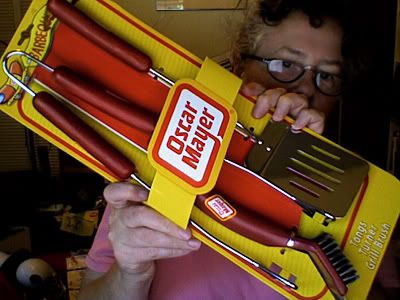 Kathy
, from Milwaukee came over to Last Saturday Knitting with her friend Lynne. Kathy wanted to give me this perfectly apropos gift that she bought for me as a "Thank you" for organizing the Alt Knitting Camp aka Gourmet S'mores Camp. Now, when I see the WienerMobile in my neighborhood, I'll be ready!
Last Saturday Knitting was a gas, as usual. We had just about the largest gathering yet! It was all the usual suspects, only all of us were there. Usually, we top out around 6 knitters, but this time we had 10, plus Owen! Thankfully, the nice young man who works weekends seems happy to have us there.
I've been spinning on the Mixed Berries yarn and working on the plain grey knitting project. And of course, counting down the seconds until school starts tomorrow (for the little guy) and Wednesday (for Owen). And I've been sitting around on the porch, under the fan, waiting for this little heat wave to pass. Tomorrow will be steamy again, then nice cooler weather blows in. Ah! True autumn can't be far behind, right?