Well, the good intentions about walking have ground to an abrupt halt. As Bezzie mentioned in the comments, the upper Midwest is too gawd-awful hot and humid to do a thing besides hang out in air-conditioned comfort sipping iced tea. My family seems to have a collective case of the grumpies. Did you know that's contagious? I didn't know that Mr. SABLE has such a strong puritan streak in him when we moved in together in 1984. But he has a hard time doing nothing, especially when he perceives that there are things that ought to be done. And he's willing to sacrifice family harmony to inflict his agenda on the rest of us. So, he's out mowing away in the blistering heat and working up a sweat for which he will try to make me feel guilty.
To answer Marji's question, the path progress is slow.
Here's the progress photo. Mr. SABLE has been laying in the bags of gravel as they dig to help figure out how much it will take and to keep the holes from becoming mud pits in the torrential downpours we've been having. When he gets to where the path bends, he can empty all the bags and proceed with the sand layer. I think I'll enjoy helping with the brick layer. That's the fun part where it really starts to look like something. Plus, it's like doing the world's easiest jigsaw puzzle.
Here's a progress picture of the purple cardigan thing.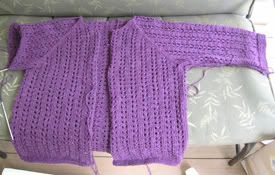 Of course, the two days of transitional weather that inspired it are long gone and will not be back until late September. But that's ok; I'll be ready! Whether or not I'll get this pattern ready for early June release remains to be seen. I want it up to coincide with something else that will be happening, to take advantage of any new traffic.
To all of you who comment: thanks! I don't always answer personally, in part because so many of you don't have your email tied to your Blogger accounts. But if you leave a link to your blog, I always love to go see what you've been up to.