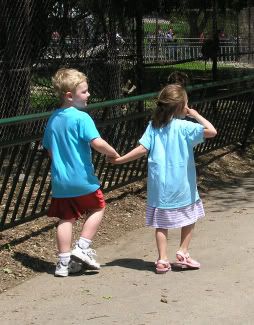 It was the Little Emperor's last day of preschool. Yesterday was "Meet at the Zoo" day (parents included) and today was "Picnic in the Park" day (parents included again). So, for me, the last day of preschool was actually Tuesday. We usually have fun when it's just the two of us. But when we add big brother into the mix, it gets a little difficult.
The picture is one of my little guy with the object of his affection. She sometimes reciprocates. He turned around and glared when he saw I was taking pictures. I felt like papparazzi.
I cast off the body part of the purple cardigan last night. Unfortunately, a long sedentary winter has led to more of a pear shape than ever. I think I should have put some increases in the area under the sleeves. It could use a bit of flare just to get over the spread. I really hoped to get it done fast and have a pattern ready by early June. If I have to reknit the bottom 10 inches, that won't happen. I think I'll finish up the sleeves, band, and collar and then try to block in a little extra girth.
And start walking again!