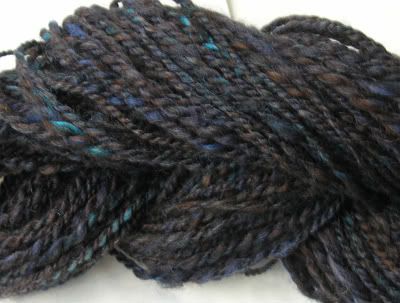 Here it is! The first real yarn I've made with the new wheel. This was from some Corriedale roving that I bought when I bought the wheel. I bought about 8 oz. of this, so there's a bunch more. I can tell that next skein will be quite different from this one, as my yarn is getting thinner and more consistent. It's very exciting to get results that are actually knittable and not an embarrassment.
It's hard to photograph these colors accurately. There's mostly black, some brown, and some streaks of light blue and cobalt blue. Maybe a little streak of grey here and there, too. My camera wants to overexpose the picture when I have just the yarn. I finally got this pic by setting the yarn on some white paper to bring up the value that the meter is seeing. Then, I cropped out the paper to get just my yarn at the correct exposure.
It's very dark and overcast here today. We're having the kind of weather I expect earlier in the spring: windy, rainy, brisk. Perfect weather for staying in and spinning or knitting.