These all get bigger if you click 'em.
Dormant Fair Isle
I hadn't worked on this for a while, and finally put in some serious time on the first sleeve over the last two days. I'm anxious about running out of one color, which I bought from a yarn shop in Ithaca NY around 1990, and it was discontinued even then. But I think it'll work out. I hope.
The Merino/Yak Down Spinning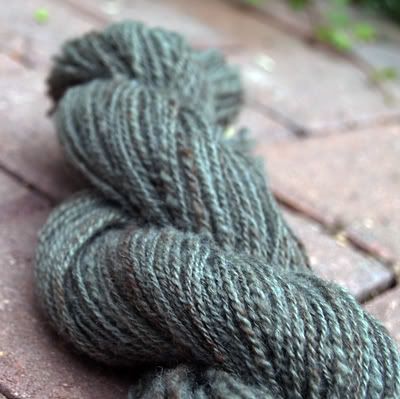 Just made a small 2 ply skein of this, about 135 yards, about fingering weight. It's fun to spin and I've learned a bit about making better batts by spinning what I've carded. I have more of this to blend and spin, but I'm not in a hurry on this now that I've experienced a bit of it. Which isn't to say I didn't enjoy it. I did. But now I've had a taste, I can work on other stuff that's calling to me. Do you like my Brooklyn Tweed style artsy shot?
A Bit More of the Shetland/Alpaca
I did another three ply skein of this, 165 more yards, and think it will be great to knit with. It has a pleasing hand, nice texture, and will not scream "Home Made!" in the finished object. Still a bunch more in the bag to spin up as time allows.
And now, I must run a few errands while the kids are still at school. How can a seven hour day fly by so fast?