When in doubt, cast on!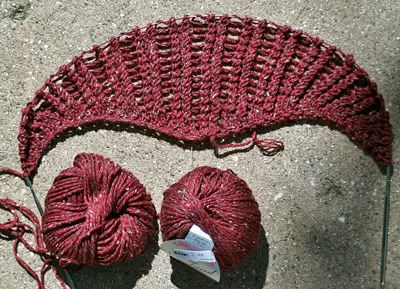 No, it isn't a headdress for Queen Amidala. It's the beginning of a scarf/shawl hybrid using
Wendy Wonnacott's Gioia
pattern, but with finer yarn and making it bigger. At least that's the plan right now.
Here's a detail of the stitch: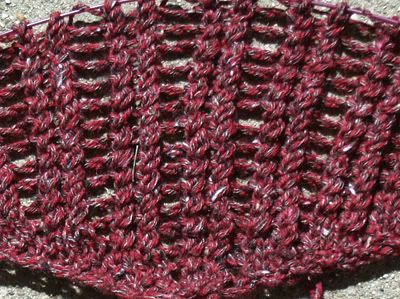 In the spring, I bought a bunch of Tahki New Tweed from the half-price bin at The Sow's Ear. It's 60% Merino, 14% silk, and 26% viscose. I didn't get enough for a garment for me. And it has a drapey quality to it that I think one can't fight too hard. I like the way this stitch pattern has a substantial three-dimensionality to it, while being lacy at the same time. The only thing I'm not sure I'm liking so far is that the growing selvedge is rather inelastic compared to the rest of the work. I'm tempted to undo and reuse the stitch pattern in a different way. BUT, I really like shape of Wendy's Gioia. It's kind of horseshoe shaped, which allows it to stay put on the shoulders without being tied or pinned. Hmmm.
I think for now, I'll soldier on and see if the inelastic edge bothers me too much once I split for the two long extensions.