The kids went back to their respective schools this week. The Little Emperor went on Tuesday and Owen on Wednesday. While I enjoyed the time that this gave me, I am definitely looking forward to the coming week, which will be a full week of normal length school days.
Yesterday I spent a little time planning my fall projects. I definitely want to finish up some patterns I started last year (including the Kelebek Vest and Morgan Cardigan) and make them available. To that end, I really need to follow through on this website stuff. Then I have knitting ideas to work on and of course, WIPs to finish.
Oh yeah, and I need to spend some time purging our house of stuff we no longer need so that we can live like quasi-normal folks again. I think I can even get the kids in on the plan, because they like the idea of making money at a yard sale and they are both tired of the stress that living in chaos brings to our lives.
Last night I plied some more of the singles from the merino-romney cross.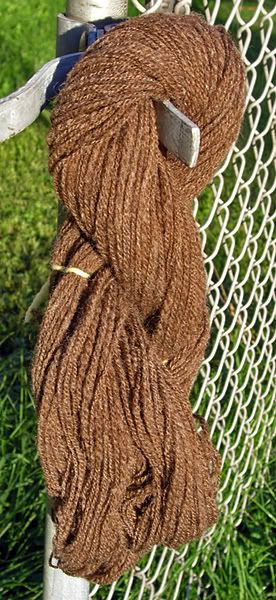 I'd been noticing that my plied yarns didn't look as nice as others I see on the internet, and decided to ply a bit more aggressively. I'm pleased with the difference this makes and I got a nice balanced skein out of it.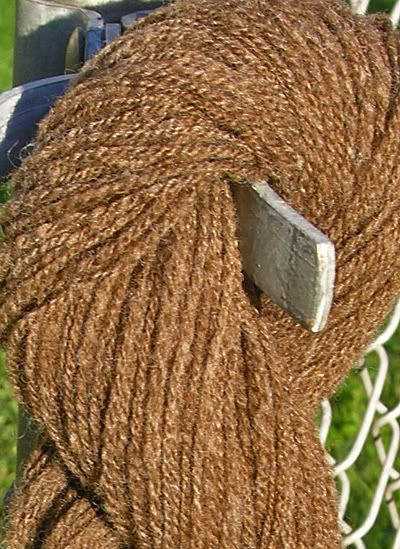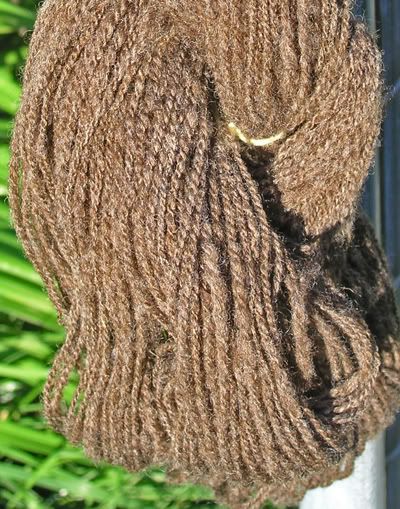 I'm planning to turn most of what's left from that batch (a very large bag full) into three ply yarn, but I have enough done as two-ply to use in a smaller project or two.
Wisconsin Sheep and Wool
I took Owen along and we met up with Kathy and Sue.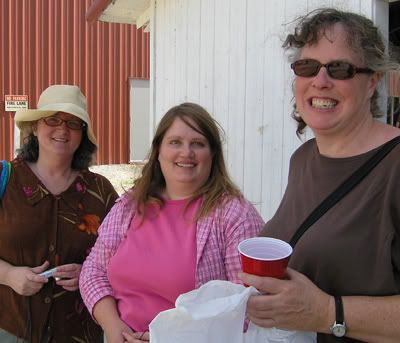 I think I'm trying to express some maternal admonition through a gritted-teeth smile here. What do you think?
Kathy and Sue presented me with a wooden swift as a thank you from my fellow campers for organizing the Alternative Knitting Camp last month. What sweeties! My other swift is a metal and plastic one I've had since about 1992. It doesn't hold the larger skeins I'd like to wind on my niddy noddy, and it's a little temperamental. This was so kind of them! Going camping with adults is such a treat for me in and of itself! (But I'll keep the swift and use it with great joy.)
(edited to include Kathy's correction.)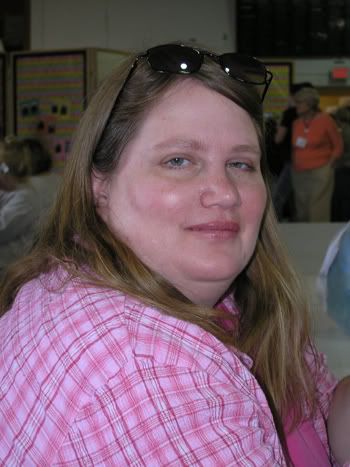 Sue, sorry this one isn't great. But I think it's pretty good.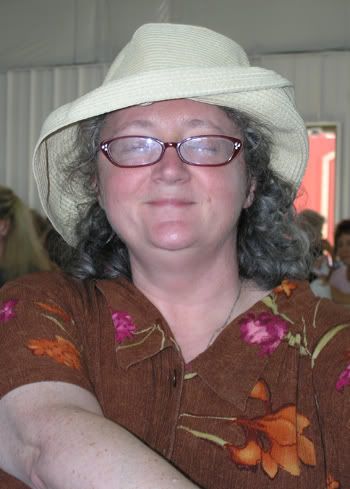 Kathy, I had a choice between this one or the Dueling Cameras shot. Even though your eyes are closed, you have such a serene smile on your face. Like you're meditating on the perfect piece of pie.
I haven't photographed my loot yet, but I did not come away empty-handed. Owen is a great enabler, even with fiber stuff, and I did buy several items I would not have, had he not been in tow.
I bought:
two bobbins for my wheel, an important purchase.
1 pound bag of 80% natural black Shetland and 20% dark brown alpaca roving. MMMM. I dove right into that once I got home.
Some merino roving to blend with some yak down I bought in NH last summer.
Some other merino roving because Owen liked the color.
Four other balls of generic wool roving, because Owen liked the colors.
That's all folks!