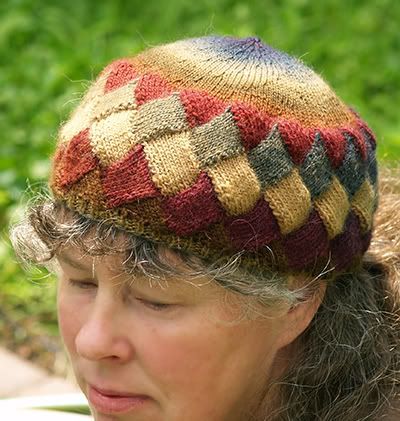 This post is to answer Ruth's question, asked in the comments of the post
Et Voila
.
Use US #2 double points. Cast on 120 stitches. Work ribbing for about a half inch.
Set up base triangles: work the base triangles following your favorite entrelac tutorial. You will be making 15 base triangles, 8 stitches each.
When you get to the end, begin making squares, heading back over the round just completed, the opposite direction. Again, consult your favorite entrelac tutorial.
Note: it really helps to teach yourself to knit backwards, that is, with the right side always facing you. It will feel awkward for a short while, but save you a ton of time in the long run.
Make three full sets of squares.
Make a round of triangles to fill the gaps. When you finish with all this, you should still have 120 stitches.
I wanted the top of my hat to lie fairly flat. I knit 2 together, 12 times evenly around, every third or fourth round. I staggered the placement of the decreases to minimize the effect of spokes. When I got to 12 remaining stitches, k2tog around leaving 6 stitches. Break yarn, leaving a 12" tail and use tapestry needle to pass tail through last 6 sts twice. Draw tight and secure to inside.
I blocked by draping damp hat over a medium sized plate positioned over a small pitcher. The plate held the top flat and the entrelac section just hung dry.
Those with smaller heads could try making 13 eight-stitch squares instead of 15, casting on 104 sts.
Happy knitting!