There's one knitting technique I have always said did not interest me. I didn't particularly like the result most of the time and the effort involved seemed way too fiddly for my taste. Well, after 20 years of saying I'm not going there, guess what?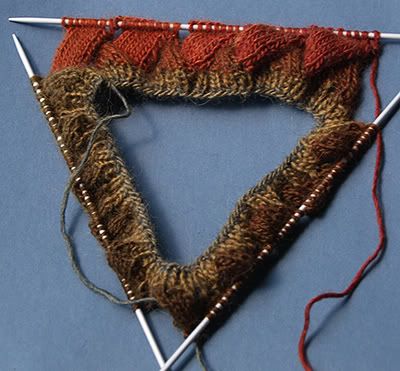 I'm going there.
I think it's going to be pretty sloppy, but it's my first time with entrelac and in the round, too. It's all because of this darn Mini-Mochi yarn. Stay tuned.
In other news
The Gourmet Schmores Alt Knitting Camp was a rousing success! We had a few last minute cancellations and two no-shows, so our standing line was, "You're eating for 12!" And eat we did! The weather cooperated, the campers were in good spirits, the food was abundant, and the knitting progressed.
Kathy
gave me this nifty little thing: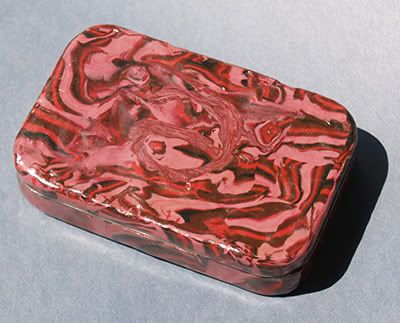 Inside view: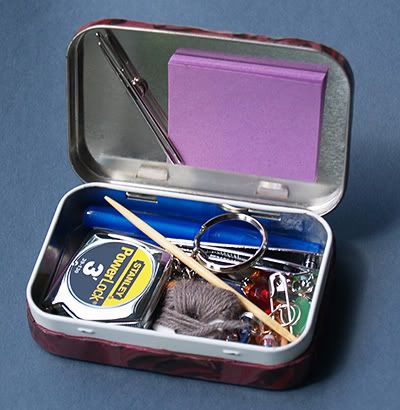 It's an Altoid tin she covered with polymer clay, then filled with all the knitting essentials! And she thought of everything! Little pen, little tape measure, stitch markers, darning needles, nail clippers, emergency yarn, and a little bitty knitting needle with a crochet hook on the other end that
she made
. I'm impressed! Thanks Kathy.
As we head through the rest of August, blog posts might continue to be sparse. I'm going to NH with my boys in a week or so, then we'll be careening into the school year! (
YES!
) But come September, lets hope I can get back into the spirit of it.