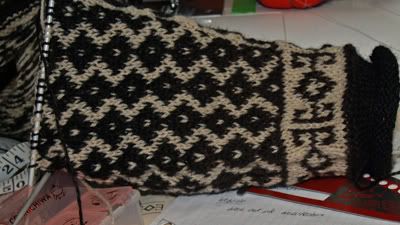 The beginning of the first sleeve for the long-dormant Kauni cardigan. I hope to have this pattern available in the next Knitcircus, release date around Feb 1, 2009
The other current project is the wine-colored merino blob you see here. I gave it the working title of "Bourgeois Swing Coat". It's a long story, but one without much substance. Not sure I could do it justice here if I tried. But this will be a nice swingy cardigan jacket that a fashion-forward foodie could wear on a fall trip to the farmers market. Most of my favorite clothes are decidedly proletarian in their lineage. But this one might help me take it up a notch or two.
And wrapping up some old business... Mr. SABLE proudly models the (already dirty) soles of his slippers. He loves these. Those bits of crud embedded in the leather are probably sawdust from his basement workshop area. He cut out the leather (which is very thick!) and punched the holes, then I sewed on the soles using six strands of sewing thread.
The Little Emperor would like a pair too. At first I thought I'd need to go buy the children's size version of the pattern. But then I realized that his feet are already as big as a woman with small feet, so I'll just make the women's small.