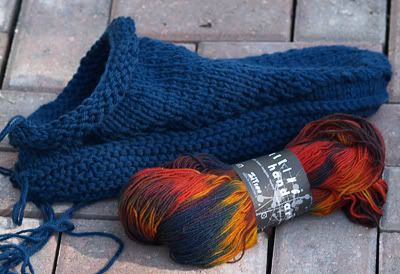 I finished the first of Mr. SABLE's Felted Clogs. I had some slight variations in the numbers as written on the pattern, but I know with felting it'll all come out in the wash. But, this thing is HUGE! It took most of two 100 gram balls of worsted weight yarn!
Yesterday Jaala & I went to Milwaukee to drop Knitcircus at some yarn shops and of course, do a little shopping. (Sorry, Kathy, I didn't bring your yarn (you know, what you gave away at the swap at camp and now have a plan for). I realize now that we were probably pretty darn close to your house, but I didn't plan ahead. Plus, you would have been at work.) It was a great day for a drive. We hit four yarn shops and had lunch at a nice cafe near Fiberwood Studio, so it was a successful trip. Plus, we each came home with loot.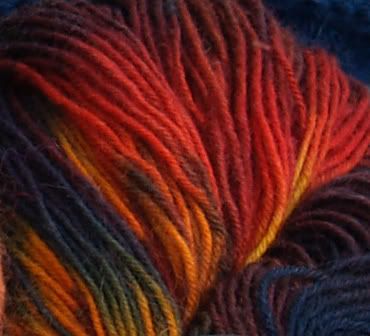 I've never bought Trekking before. Not sure this will become socks. I'm kind of leaning toward a hat, but we'll see.