This is the second attempt at a new idea I'm playing with. I bought this lovely yarn at Miss Vicky's Yarn Cafe in Baraboo when all the Alt Knitting Campers decided to drop in on her. It's Di Vé Autunno, 100% Merino. A very soft single that I bet will pill like a demon, but will feel so nice along the way. I'm trying a few variations on the basic top-down raglan cardigan, but it means doing all the thinking up front. When you make a sweater from the bottom, you can usually just cast on and go. But this time I've got some fiddly short row shaping and a sloped raglan, with a somewhat wider-than-usual top of the sleeve section, and maybe a variation on the slope of the front raglan line. This is attempt #2, and I know I need at least one more. The good thing is that I learn something new on each attempt.
I think one of the main differences between knitting designers and knitters in general is that the designers are the ones who get an idea and keep trying until they get it right. The idea doesn't have to be complex or amazing. There's nothing wrong with being a knitter who doesn't design (there better not be: we depend on them to buy our patterns!). Some folks would rather not take something out and redo it five times, adjusting numbers and needle sizes a bit each time. And that's perfectly fine. Some of us, though, just can't help ourselves.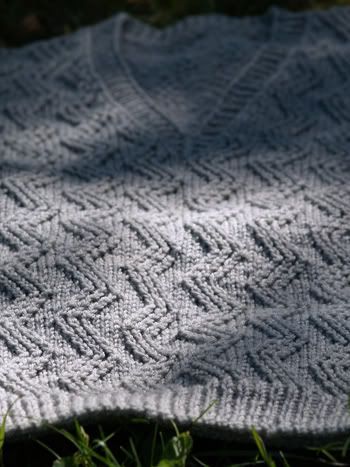 And this is a teaser photo. The project will be Knitcircus #5, released Feb 1 or so. You just have to wait.