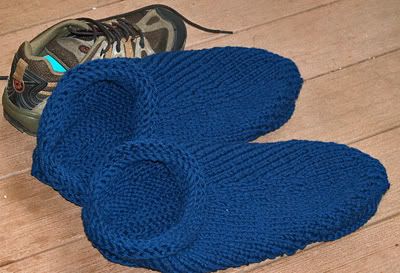 These are ready to chuck in the washing machine. The shoe behind them is a men's size 9, just to give you a sense of scale. They look huge, but when I put them on Mr. SABLE's foot, not so huge that I lose faith in the felting process.
And here they are after felting, with the same shoe for scale: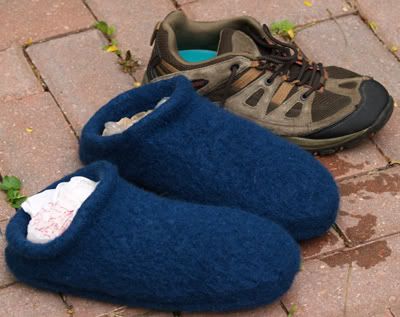 Yarn:
Knit One Crochet Too Parfait. It felted up in no time flat. Wow. Total used: between 300 and 400 grams
Needles:
US size 13 Susan Bates, plastic. I bought them because they were cheap. If I do more of these, I'll try to replace the conventional cords with silicone tubing. Getting the stitches back onto the needles from the cord took real muscle.
Next phase will involve cutting the leather and punching holes to make a sole. Stay tuned.