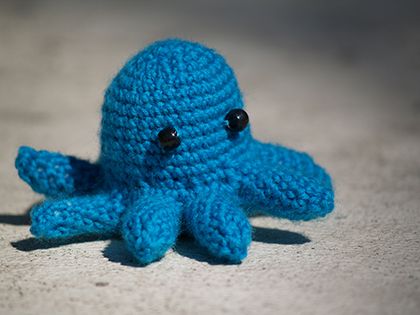 I've never been interested in making knitted or crocheted toys. Never really got the appeal of
amigurumi
, either. Or maybe, especially.
But yesterday, the younger son and I were looking at LOLcats and there was an ad on the site that featured an amigurumi octopus. Well, they said it was a squid, but it only had four legs, so who knows what it was. My son says, "Hey, look at that cute octopus! I want one!" and I said (foolishly), "I could make one of those." He replied, "Today? Can you do it today?" Well, then I was in over my head. I searched the toy patterns on Ravelry and found this one. I had some Cascade 220 Superwash around from an aborted sweater design last year.
A few hours of tight crocheting later, it's done.
Pattern:
Tiny Octopus
, by Takara
Hook: size H
Yarn: Cascade 220 Superwash, in a turquoise blue
Eyes are black pony beads
Notes: Pretty simple little project for anyone who can do single crochet. Hard on your wrists to work so tightly if you're prone to carpal tunnel troubles.