One of the perks of producing a magazine is that people send us stuff to review. At Knitcircus, we recently received a box from
PhatFiber
with samples of yarns and fibers from small-scale producers. One of the fiber samples was Merino Wool Top from
Sweet Pea Fibers Etsy Shop
. This sample (colorway Sea Otter Play) was about 1 ounce: enough to make a small skein and get a feel for the quality of the fiber and the dye job. I noticed lately that I have several long-term spinning projects stacked up and I wanted a short fun little project. This sample was perfect.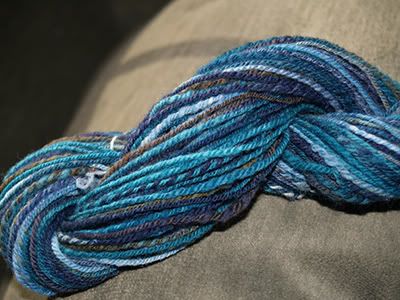 It was a joy to spin. The fiber maintained the nice crimp merino is known for. A gentle tug here and there was enough to make the fiber flow through my fingers.
I made this sample skein yesterday afternoon and evening. It's about a sport-DK weight, weighs in at 25 grams, Navajo-plied to keep the colors pure.
I'm sure I could think of a lot of creative ways to use an ongoing supply of sample-size skeins. But more importantly, by getting a sample I was exposed to a new source of hand-dyed spinning fibers and was able to experience first-hand the quality of the fiber. I'm definitely going to cruise the Sweet Pea shop for future offerings.
And Now The Weather Report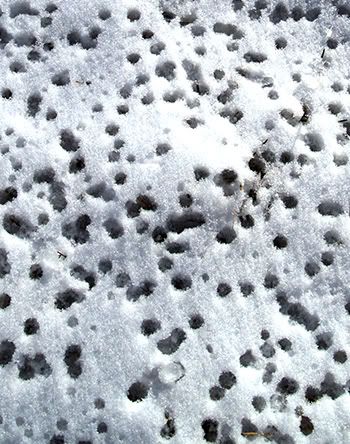 In spite of a trend toward spring-like conditions, and the premature switch to Daylight Savings Time, winter has not entirely surrendered its grip. This connect-the-dots scene was taken under the giant silver maple tree in my front yard. Drips of melting snow and ice are landing in the thin coating of snow we got last night. As a rule, I don't believe in complaining about the weather: it's not as if I can do anything about it. And, in general, I would rather be too cold than too hot any day of the year. But Chez SABLE we are all well and truly ready for spring.