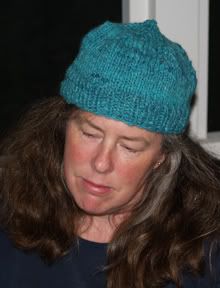 I've been working on the skinny scarf on #2 needles pretty much single-mindedly for the past couple of weeks. It doesn't look like I have a lot to show for that, but I'm about half-way done and I haven't given knitting a lot of time lately.
Last night, I suddenly had the urge to do something quick! And to try to knit up some of the "yarn" that I've made. This is from
the yarn I was learning on, in April
, made on my drop spindle. It was a challenge to even make a small hat from it because the earliest stuff was very thick, super-bulky, and the last bunch would have knit nicely on #6 or 7 needles. It was very clear where the whole spinning thing clicked for me. So, yes, this hat has many gauges going on, and yes, it's kind of funny-looking and a little too short in the crown, but I felt it was important for me to actually make something from yarn I spun. I'm hoping that a little blocking will at least take away the nipple on top. It may not be the most elegant hat I ever made, but I'll wear it with pride, because it's the first item for which I actually made the yarn, too.