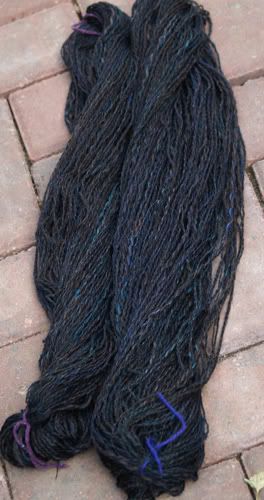 I've been making time for spinning the last couple days. Today I finished up the last of the mostly-black corriedale I bought from Susan's Fiber Shop when I bought the wheel. Toward the end of the singles, I could sense that I was finally controlling the process a bit, rather than being controlled! I plied most of it. There's still a bit of extra sitting on one bobbin that I'll ply with itself. My plied skeins were a little unbalanced, but then, so am I and so is my whole family. The first one I plied today wants to twist around a bit, not too badly. But the second one has more torque. I'll try giving them a soak and hang out with light weight and see if that helps.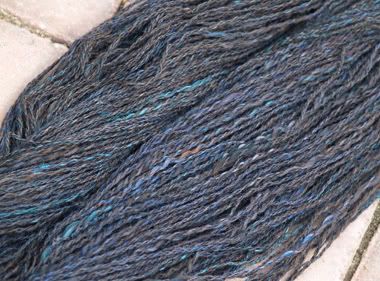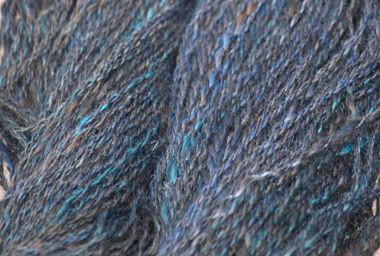 Meanwhile, I ordered the spinning books from the library again. In April I got a big stack and read just enough to get started. It's hard to make sense of some of it (like different ways of controlling your draft) when you feel lucky to just to make something that looks kind of like yarn. As that part gets easier, it's time for me to learn more and improve my technique.
Finally, yesterday afternoon this poor swallowtail paid a pretty long visit to our butterfly bush. I got a bunch of pictures, several quite close and crisp. Alas, something has been shredding this poor butterfly. His wings are badly damaged, but he still gets around pretty well. Gives him character!