As you all know, the SABLE clan went to New Hampshire on Friday and returned yesterday. I grew up in Henniker and still have some right to call it home. My parents are now just about "locals", having moved there in 1967. Yep, it takes that long.
Lots of photos follow.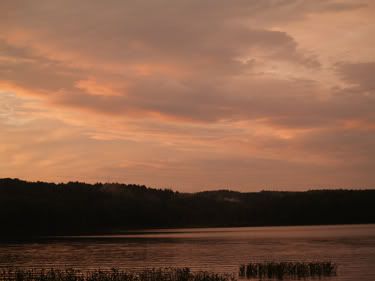 We have a favorite place to swim. Usually no one else is there, sometimes one or two other small groups. This pond is the best kept secret in NH and I'm not about to name it on the internet.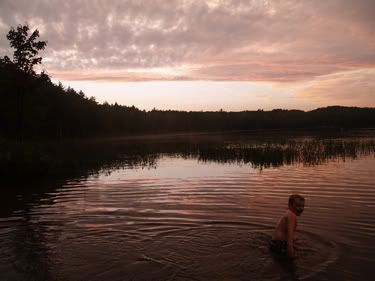 In all these years, I had never taken the Cog Railway. Mr SABLE has a strong interest in trains and seemed to enjoy getting a close look at the mountain engines and their undercarriages. Unfortunately, the top of the mountain was deep in cloud cover, so none of the views from the way up are very interesting.
Here's my mom on top of Mt Washington. The Presidential range should be visible behind her!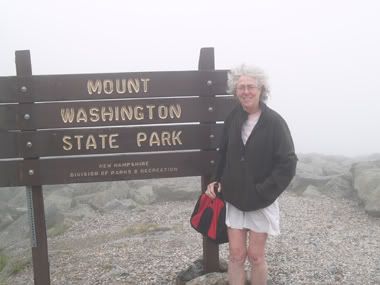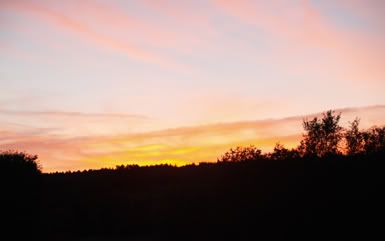 The sunset from behind my parents' condo complex.
Meeting Shelagh!
Shelagh was really motivated to meet me! Because of the general crabby mood with my family and the heat, I didn't feel like I was in a position to meet her half-way, either with kids or alone. (I would have loved to meet her in Western MA without family members in tow, but that didn't seem politic.) So, Shelagh drove to Henniker. We went off to The Fiber Studio, where we lucked out and they opened the shop for us. Normally, they aren't open on Mondays. I think we made it worth it for them! Then I took Shelagh up to my parents' used bookstore, in the barn behind the house in which I grew up. I nudged her toward a Barbara Walker book that I had noticed the day before: Charted Knitting Designs, 1st ed, in a dust jacket. Hope she didn't feel too pressured! Here we are on the deck of my parents' condo.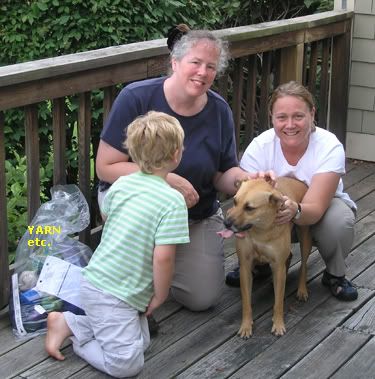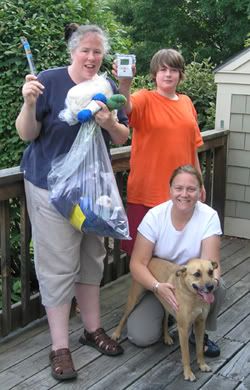 Shelagh started the Hyde Park Pullover before her big move. I bet when fall comes and she's settled, she'll finish it fast. And it'll look great on her!
She brought some yarn for me to dye with Owen. (I didn't tell Owen yet, because he's a bit relentless.) As soon as the weather breaks, we can get to it.
Yarn and Fiber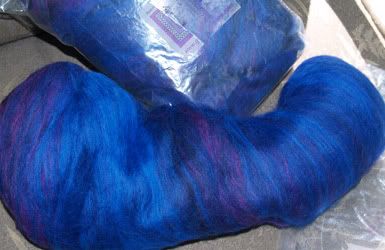 7 oz of Corriedale-ish in blues and purples.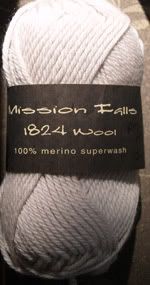 A couple items from the Clearance table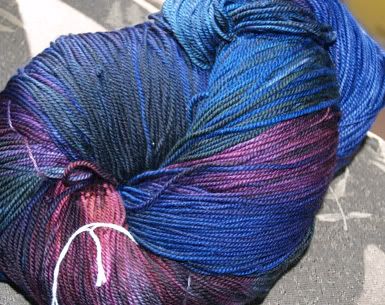 Superwash Merino...
and not pictured: a gift for someone. I don't want to spoil the surprise.
Coming home, I was greeted by a delightful crop of mail. My Options set from Knit Picks, a couple packs of greeting cards from my CafePress shop (they really turned out well: I'm quite pleased with their job on the reproduction.) and some yarn from Yarn Botanika.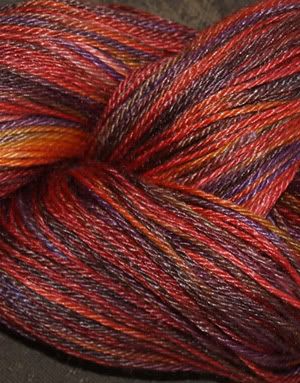 The Garter Belt team members are working up a project in cooperation with
Yarn Botanika
. We each got a single skein of fingering weight merino/tencel blend in a colorway custom done for our color preferences. We'll each come up with a pattern for a one-skein project and Yarn Botanika will sell kits and patterns, as well as the patterns being available on TGB. It's gorgeous yarn and I love what Lisa made for me.
N is also for Neighbors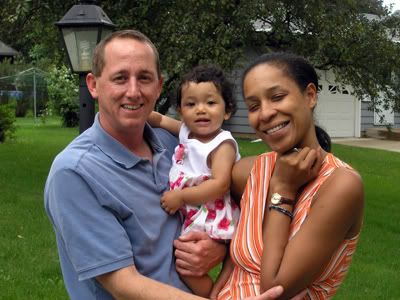 These are my wonderful next-door neighbors. We're so lucky to live near interesting, intelligent, nice, sympatico neighbors like these. If only they all were!