My dear teen-aged son Owen pulled a little prank this morning. He put a rubber band around the handle of the sprayer on the kitchen sink. After I got the boys off to school this morning, I went to clean up the breakfast stuff. I turned on the water and got a good soaking down my front.
So, my revenge?
I tinkered with his laptop. I reset his browser homepage to open to Barbiecollector.com. I turned the brightness all the way down on his monitor. These two things don't really sound like enough, do they?
Nah.
So, I bought some tootsie rolls and fashioned these: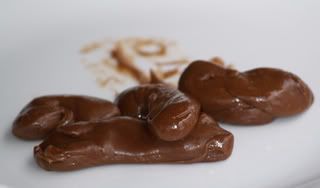 And I put them on his pillow: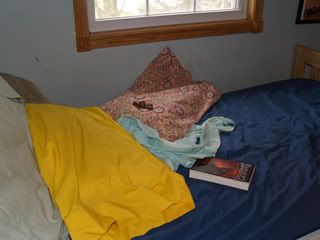 This seems like enough revenge. Don't you think?
Update at 9:45 p.m. He went into his room to get ready for bed, and a few minutes later said, "Thanks Mom," very sarcastically. But then he laughed. And he said he wasn't fooled, even for a second. His second utterance was, "What are those? Tootsie Rolls?"
No slouch, that kid of mine.