I've spent the morning waiting for things. Our telephone was behaving oddly and we had a service call for that scheduled between 8 a.m. and noon today. He came about 10:30 and solved the problem. Yay! I'm also waiting for a load of paver bricks from the building center. I don't strictly need to be here for that, except that I want to make certain the pallet gets set in the right place! No sign of them yet.
I'm bad at waiting. I tend to feel like I can't get too involved in things if I know there's a chance I might be interrupted. I don't dare go to the basement lair because I won't hear anyone at the door or in the driveway, so I'm just kind of "on hold". I worked on a sock for Owen, so that's productive. He would like a lot of pairs of hand-knit socks for the coming winter.
In other news, last night I worked on a swatch for a fair isle vest. I don't think I'm ready to change my name to Alice S. just yet.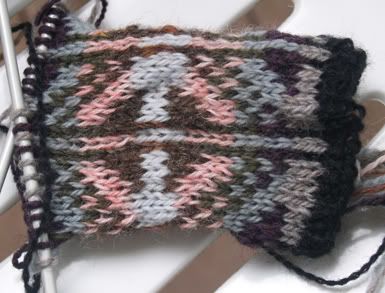 The swatch is in the round and I'll cut it open for a little steaming and blocking before measuring it. But first, I need to make another repeat and rearrange the colors. I've decided that this one has too much of the pink, so that will move to the center two rows and the palest grey, which reads as either light blue or white, will move out a bit. I might tinker with a few others, too.
After fussing with this last night, and much rummaging in my boxes and bins and trying desperately to find a cone of yarn I know I own, I was reminded all over again that sometimes there really is no substitute for swatching. In your mind, you think you know about color. You think you can "see" how the different hues and values will work, or not, together. And yet, there's still an element of surprise. A green can turn grey; a grey can turn blue. Making choices that work, with good contrast in values, so the design isn't muddy, and the right choice of hues, takes time, experience, education, and a natural bent for the process. And a strong ego, too, because some nay-sayer will always be happy to tell you that the choices you love look like crap in their opinion.