Sarah M aka Teleknitter
is The BEST!
I just got home from the supermarket and the mail was in the box. And look what she sent!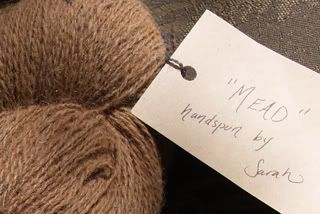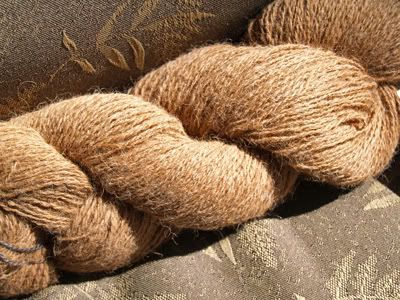 This gorgeous hank of 100% alpaca fingering weight that she spun! Mead was featured on Sarah's blog a bit ago and I might have dropped the subtlest hint (Yeah, right. Subtle like a train wreck!) that I loved this yarn. And today, here she is! An early birthday present. Sarah notes that her (Sarah's) birthday is November 11, two days before mine, so that gives me a while to think of a suitably cool way to reciprocate.
Since Mead has already posed for yarnographic images for Sarah and is now featured here, I'd say she's had more exposure that the average Playboy centerfold. But she's so deserving.
I can't wait to introduce her to some of the alpaca hanks I bought at the Alpaca Fest. I think they'll get on well together.
Thanks Sarah. You made my day.