You can tell I'm on a roll here! Lots of knitting content these days.
This swatch shows the colors I've decided on for the Kelebek Vest. The stitch pattern is from Anatolian Knitting Designs, and is called
Kelebek
which they say means
butterfly
in English. I'm using mostly currently available Harrisville Shetland colors, which are far more reasonably priced that Jamieson and Smith, though the color range is more limited.The only color I don't see an equivalent for in the Harrisville line is the apricot that I got by over-dyeing my pink with a solution of brown and moss green Wilton's cake dec coloring paste. I'm pretty sure I can find a good choice in the Jamieson's line, but need to look at their color cards in person, not just online, to decide. Since my guys have all gone off the train show in Monroe, I'm going to seize the moment and cast on! If any of you fair isle nuts out there would like to knit a sample for me in an alternative colorway, let me know. It would work something like this: I send you yarn and pattern. You make the vest and send it to me with any comments or suggestions. I take pictures and such, then return the vest for you to keep. Just a thought.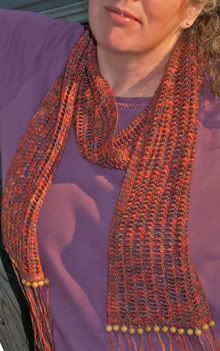 Moving along, yesterday we had a burst of sunshine in the late afternoon. I happened to be wearing a purple shirt that coordinates very well with the Autumn Walk Scarf. Grabbed the camera and Mr. SABLE and went to the backyard climber where some rays were still not below the horizon. The pics all had a very warm glow from the angle of the sun.
Weather permitting, I'll get some more pics before the weekend is out.