Ok, this project isn't strictly Fair Isle, in that the motifs are from Anatolia and the symmetry is a little different. Still, you know what I mean.
Here's the progress so far of the vest, just over half-way through the first repeat.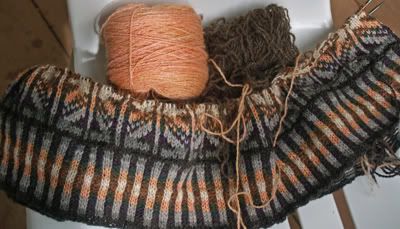 Today I timed myself, just to see what kind of rate I sustain. I played a 48 minute CD and I did 4.5 rows at 330 stitches per row. 1485 stitches (roughly) or about 31 stitches a minute as a sustained average rate. Not record-breaking, but I think it's respectable, considering I stop to flex my fingers every now and then and also to stare admiringly at the work in progress.
Here's the close-up shot: