It's starting to look a bit like autumn in my backyard. Here are some pictures I took this morning. They all get a little bigger if you click 'em.
Dried Sunflower Heads
Dried Sunflower Heads With Morning Glory
Some Ornamental Grass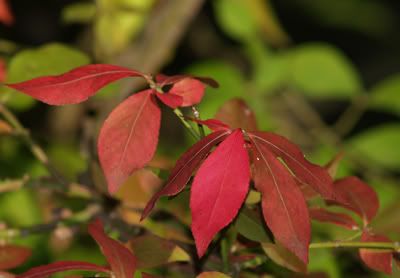 The Burning Bush is Starting To Burn
Knitting News
The Kelebek Vest is about 12 inches long now. Three more inches until I start the armhole and neckline shaping. At that point the work will seem to speed up, because it will lose a lot of girth in the last 10 inches of knitting. Then, it's time to cut the steeks! Stay tuned!