The moment Bezzie has been waiting for!
Here's a picture of one of the armhole steeks with the center stitch outlined for clarification: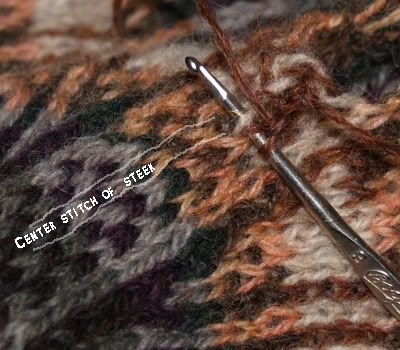 A crocheted steek involves using a small hook (size 3 steel hook in my case) to make two parallel rows of single crochet, working through the adjoining stitch and the center stitch. The hairiness of shetland style fibers helps hold this all together.The hook enters the middle of one flanking stitch of the center stitch and emerges in the center stitch. A loop is drawn up and the single crochet stitch is completed enclosing the two halves of the two steek stitches. All the pictures except the first one get bigger if you click 'em.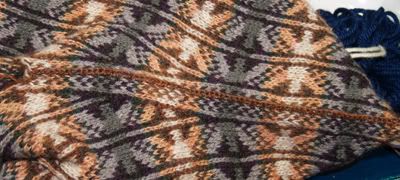 Work crochet on one side of the steek and tie off the yarn. Then start on the other side to complete two tight parallel rows.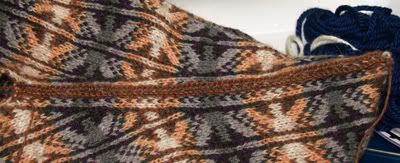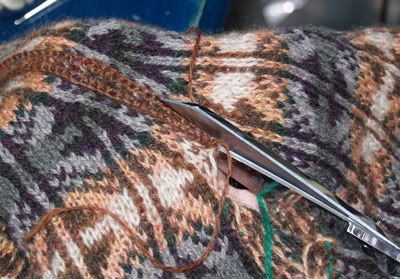 Time to cut! Use sharp scissors and cut up between the two rows of crochet.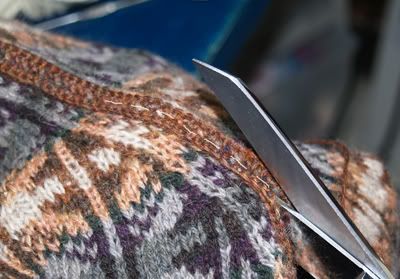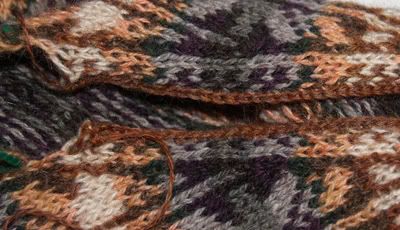 You end up with something like this. The bound edges naturally roll to the inside of the work. After you pick up and knit bands, sleeves, or facings, tack these edges to the inside with your yarn. This will help strengthen the cut area.
Here is the knitting up of stitches for the front band: