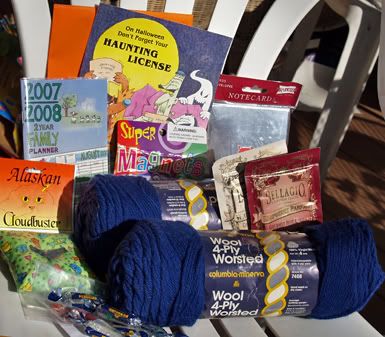 My Cheap A$$ Secret Pal came through with more goodies today! What fun! I didn't get a close up picture of the stitch markers, yet, but they are really gorgeous. The other items in the picture above are two skeins of vintage wool, two packets of fancy cocoa, notecards, Perugia candies, family planner*, and a catnip pillow for the cats.
Here's Hailey being awakened from a nap to enjoy the pillow: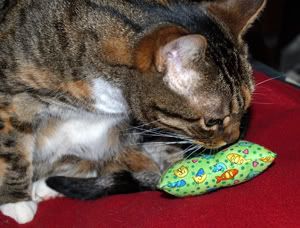 After a minute of sniffing, she made the flamen face. I wonder if there are animals at the place where these are made?
Thanks Flutterby! It's a great package!
*Of course, my "family planning" days are done: I had my tubes tied after the second child!