Got the second sleeve done and ends darned in last night. I gave it a little soak and spin and it dried overnight
Here's The Little Emperor himself modelling his new pullover: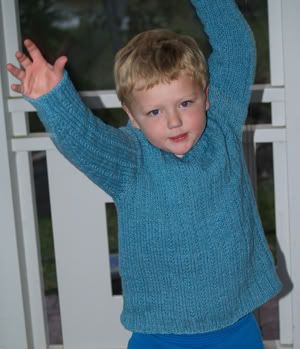 This evening I found out that there's a new baby in my neighborhood, so I'm making a little cross-front cardigan in DK weight Encore for her. It's hard for me to wrap my mind around normal baby sizes as my guys were born huge and stayed big. The new neighbor is a little early, so I have to adjust my numbers down a bit, or she won't be wearing it for ages. It should be a quick knit.
My mind is reeling with possible projects. It's nice to feel so inspired, and so productive!