Got the mail today and it was a double-whammy of fun stuff. First, my new CASP (cheap ass secret pal) sent some goodies: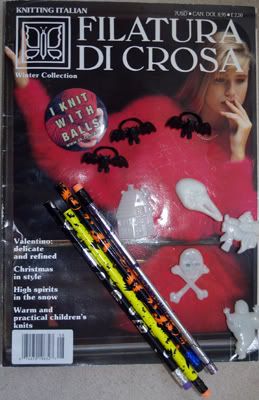 A 1988 Filatura di Crosa mag, a cool button that says, "I knit with balls," and some Halloween swag to share with the kids. Pencils, magnets, rings. Thanks Flutterby!
Fall Knitters
The next fun thing in the mail was Fall Knitters. Now, for a lot of folks, reviewing a new issue of Knitters is like shooting fish in a barrel. I try to keep an open mind. Usually I see a couple of items per issue that I think are well-executed and attractive. And a whole lot of things that leave me wondering. This one has several items that I like at first glance, and some that are true to form And every issue I wonder who writes those crappy attempts at poems at the beginning of each section. And why? Honestly, save yourself the effort and knit a few more rows on your latest WIP or something. The readers will not miss them.
This issue, the first thing I noticed was a lot of pom-poms in advertisements. Big ones. Like tumors. I'm in the camp that likes pom-poms on people who are under age 9 or so. And maybe on top of a hat in the winter. But not 20 of them festooning a scarf.
Flipping through the patterns, I see a few that are inoffensive enough, but nothing I haven't seen before, a few real screamers, and a few I really like.
I'm quite impressed by the three by Celeste Pinheiro, especially the kids' patterns. Norah Gaughan's Alpaca Twill coat shows a complex understanding of garment construction which I really appreciate. I also really like Diane Zangle's Cecropia vest, though I would change the colors to make the charted pattern more crisp.
I'm sorry to see Elsebeth Lavold's foray into interchangable ruffles. She's someone whose work I've respected and I just look at those various "treatments" and wonder why?
Maybe that's where Knitters tends to go wrong. They start with an okay pattern and then they want to give a little
something extra
. Only they go too far. Where they could have had clean lines and a wearable garment, they kill it with embellishments: ruffles not only on all outer edges but on the shoulder seam, too. A simple v-neck cardigan, with a big appliqued flower. And so on.
There's an old rule about women and accessories and/or jewelry. When you're going out and you get all dolled up, when you think you're ready, take something off. That's probably just right.
I'd say the same is true for embellishments on knitting patterns. Less is more! Really!
I'll leave you with progress pics of the Kelebek Vest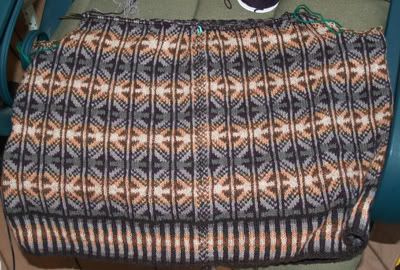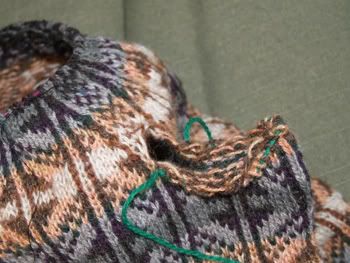 This is worked on US size 4 needles at about 6.75 st. / inch.