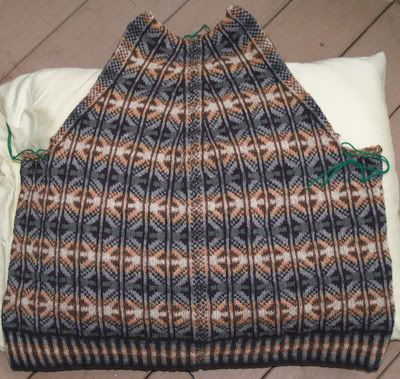 Right now, this is a pretty funny looking garment. But by tomorrow I hope it will look a lot more like a vest. Bezzie, brace yourself! I'll commence steek action tonight. This will involve reinforcing along the areas I will cut, then cutting up the front and for the armholes. I will be crocheting my reinforcements on this project. This shetland-style wool is very hairy and grabs well. I don't expect any trouble from wayward ravelling on this project. When I cut steeks open on superwash or slippery yarns, I prefer sewing machine reinforcement, just to make sure nothing is going to come disasterously undone. You can see an example of how this will work
here.
Sorry some of those pics are pretty bad: I took them before I really understood what I was doing. Expect better pictures to come from the work in progress!
For those of you keeping track at home, I made another bone-headed error on this. I was doing a three needle bind off and on my first effort, I bound together the two halves of the front at the shoulder seams. Doh! Undid that and managed to get fronts married to back and back of neck stitches safely on hold. Stay tuned.