This morning, I finished darning in the last ends and sewed on my buttons. I hadn't yet monkeyed with the self-timer on my new camera, so I thought it was a good time to learn. Still more learning to be done, I'm afraid.
Here are two blurry photos: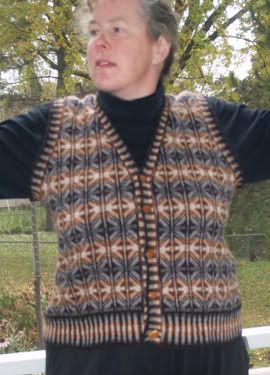 I'll have someone (husband or son, not sure which) try again for me. Or maybe I'll read the manual a little more and see if there's a handy tip or two I missed.
Before I release a pattern, I'm going to make at least one other colorway swatch, maybe two, in more popular colors. I have a lot of teals, blues, and greens of the Harrisville New England Shetland and I have a lot of oranges and reds I think could live together, too.
In other news
On Saturday I got a suspicious letter in the mail. No return address, something thicker than paper in there, marked "Hand Stamp" in big letters on the front. It was a little random act of kindness from
saintjay/Rhymes with Mango
:
an emory board with butterflies from Kaleidescope Yarns and a funny postcard from a Cafe Press store. Thanks! It was a fun little surprise.
Remind me to tell you all about the time when Mr. SABLE got a suspicious padded mailer and it eventually led to a visit from the bomb squad. Don't worry: false alarm. Sure gave the neighbors something to think about, though. But that's a story for another day.
I spent most of today on a field trip with the kindergarteners to the Perfect Pumpkin Patch. Rounding up gas molecules in the great outdoors. Most of the kids were very good, but I'm beat.