Mr. SABLE is out in the glorious October sunshine putting bricks in another section of the path. After the initial section was done he let the whole project sit for a while. Nothing like the crisp fall weather to put the fear of impending winter in you and get you moving on the outdoor projects while you still have the chance.
More About Color
I dug out a few of my early swatches to show you some of what I learned by doing.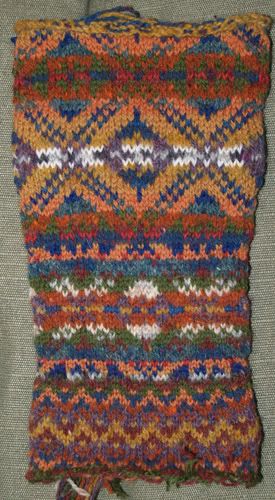 This is a tube of knitting I made in about 1990 or 91. At the bottom, I started with some simple zig zags. Then I tried to follow a chart from Starmore's Fair Isle Knitting, but substituting colors with almost no regard for logic. After one completely unreadable repeat, I switched to bigger needles and sorted my yarns by color family and value. Here are closer views of the two sections of that experiment: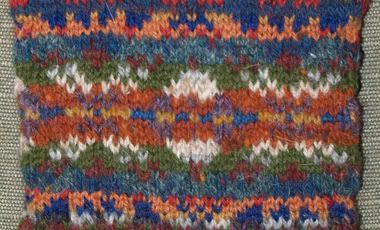 Totally unreadable version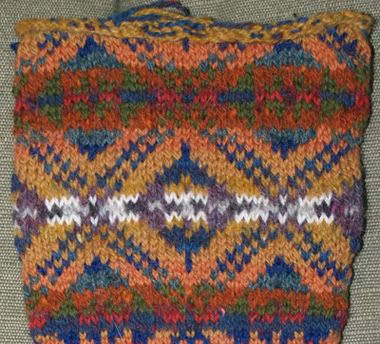 Much improved version. I still wasn't happy enough with that arrangement to make a whole sweater with it, but I felt like I learned something valuable.
Here is another attempt at the same chart. This time I sorted by warms and cools. The fact that I really didn't consider the importance of value is very clear. Sometimes in traditional Fair Isle knitting the foreground and background intentionally shift values. In this example, they were each shifting from dark to light and light to dark in oppostion with each other, leading to an unreadable design.
By the way, another great book for learning about this stuff and fairly easy to obtain, is Maggie Righetti's
Sweater Design in Plain English
. She has some very helpful and well-condensed information about color.