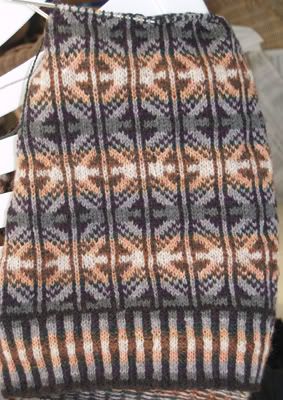 The Kelebek Vest is now about 14 inches long. After I get a shower and a snack, I'll work my way up to the armhole zone. Yes, I will take lots of pictures of the steeks as they progress and describe just how you can make them in your next project. The armholes will be quite large compared to what you might expect. I don't want the shoulders of my vest to hang off, but rather, to hit my natural shoulder. Considering the armhole ribbing will be about 1.25 inches, I need to get rid of a lot of body stitches from the underarm zone to make this transition. I think this is an area where designers often could do a better job, especially when they try to apply a formula to larger sizes. In my case I am going to put about 5 inches of stitches on hold in each underarm area. (This will be diminished by the trim when it gets added.) Then I'm going to decrease away another 20 stitches on each side of the armhole, so that the width at the vest back, before trim, will be about 13 inches. Much narrower than half my full bust finished size.
Let's Learn About Color; Lesson 1
Value: the relative lightness or darkness of a hue.
In this greyscale version of the photo at the top of the post, you can see that both my foreground and background colors progress through a range of values, but that all the foreground colors are darker than all the background colors. This allows the design to be seen through the various color changes. To me, one of the most crucial aspects of a successful Fair Isle design is proper control of value.