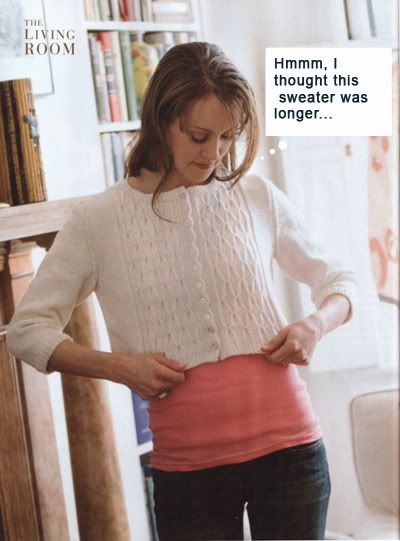 There's probably a special place in hell for those of us who do things like this to magazine pics, but hey, I'm willing to risk it.
There's not much a I truly love in this issue, but I usually feel that way about summer issues, so no surprise. Fall and Winter are really my seasons.
But I do LOVE LOVE LOVE Kate Gilbert's Syncopated Caps. There are a few other things I might like if I was young and thin. Or had a more femme sensibility. Those are projects like Shirley Paden's lace top that I admire as knitting but know I'd never make something like it, unless it was a gift for someone very near and dear to me.
I do think that they listened to input from readers about the new layout. Yes, the instructions are still at the back, but they now include the designer's name and a little blurb near the big photo.
Oh, and that short little white sweater? It would be cute if it was long enough. Or even if they styled it over a little black dress and the model wasn't acting like she wondered who shrunk her sweater in the wash.