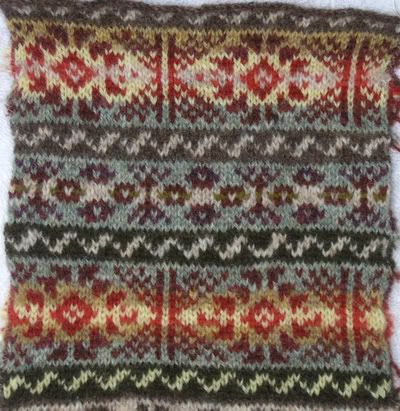 I spent last night and this morning working on this swatch for my next Fair Isle project. It's an interesting process.
At first, I try to figure it all out in my head. For me, that doesn't guarantee good results. I have a lot of yarns in the reds/maroons/rust range and was thinking about using those in a warm, autumnal kind of project.
I got out several different Fair Isle reference books and chose three charts from
Sheila MacGregor's Traditional Fair Isle Knitting
. Starting at the bottom, I paired an olive drab with my dandelion-dyed yellow in the peerie pattern. I wasn't pleased with how vividly the yellow read against the olive in the knitting, though the colors looked nice together in the balls. Moving into my first larger pattern, a 15 row border pattern, I felt that the pale green in the background might not be warm enough to work out. I also screwed up the pattern near the middle of the chart. Obviously, in this swatch you can see that I wasn't thinking much about lining up my pattern repeats. I'll do the math on all that when I get to a garment.
For the next repeat of the peerie, I swapped out the dandelion-dyed yellow with a natural light tan. This makes the olive read more brown, which I felt helped it, but I still wasn't quite happy. I decided to use a natural brown with a lighter value heather to it with the natural tan.
As I moved into the smaller 9 row border pattern, I introduced a plum purple and a lighter olive green to the foreground colors. I really liked the way this section worked, even though I didn't expect great results by looking at the colors in the balls.
For the next repeat of the 15 row border, I tried to use more of the dandelion-dyed yellow and brighten up the middle of that pattern. While I was knitting it, I liked it, but I thought the pale green background had too much value contrast with the dandelion yellow. So, I subbed in the golden-grey yellow on the final section of that.
After I cut the swatch open and gave it a quick wash to block, I kind of decided that I did like the first version of the 15 row border after all.
So, what I'm going with:
Natural brown and tan peerie.
The 15 row border as it appears in the lower part of the picture, but without the errors in color placement.
The 9 row border as it appears.
This leaves me with only one challenge. The gold-grey background color was a random ball I found in my stash. I'm not sure where it came from, but I suspect it was in a large grab bag from St. Vincent's some years ago. There seems to be less than 25 grams of it, judging by my comparisons to full balls of Jamieson's Spindrift. So, I need to try to find a similar color in currently available Shetland 2-ply jumperweight yarn and buy about 75 grams worth to make a sweater. My first step is to ask to look at the Spindrift color cards out at The Sow's Ear. If there's a good match, ask them to order a few for me. Failing that, I could send a snippet to Schoolhouse Press and see if the Jamieson and Smith 2-ply Shetland has a good color match. Failing that, I'll have to swatch again and see what else might work.
I wish I could just spend all day playing with color. It's exciting to see how things change when they get paired with different partners. There are some real surprises for me, even though I think I know a bit about color.
In Other News
Last Saturday Knitting met this afternoon.
Cindy
,
Yarn Thrower
, and
Linda
were there. It was a great time, although we missed
MollyBee
, who didn't make it. Next month Molly!