Last week I got my wheel dusted off again, after many months of neglect. The cat had chewed through the hemp drive band and I needed to put on one of the rubbery ones that came with it. This isn't a hard thing, but was enough to keep me focused on other stuff for a long while.
I dug out a volleyball-sized ball of roving I bought at Rainbow Fleece Farms last spring. (Or was it the spring before?) This fiber has some very long staple strands and some shorter fuzzy stuff along for the ride. Since I was rusty from not spinning for a while and the fiber took a bit of getting used to, the end result was a bit uneven.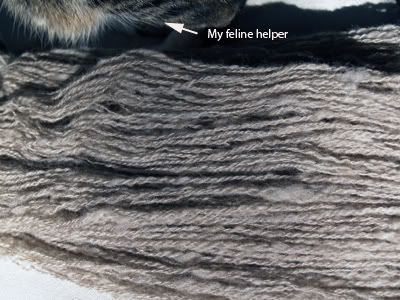 Even as I got the hang of working with the fiber and using the length of the staple, I still got a few little bumpy bits that refused to smooth out. I think this fiber will always make a slightly rustic yarn. It's just the nature of it.