Or maybe it should be called Pyramid Power? The top really is more of a pyramid, rather than a flat square.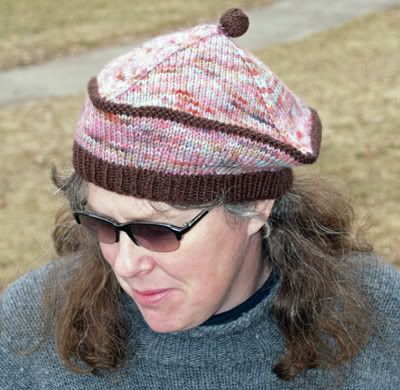 I got a better picture today. The basic recipe is to cast on a brimful of stitches and work ribbing. Switch to MC and larger needles for stocking st. Work in rounds, increasing 10 stitches evenly around every 3rd round, until crown is desired depth. This was 14 rounds in my case. Use contrast yarn and k 1 round, p 2 rounds. Back to MC and decrease pairs every other round. I worked ssk, k to end of first fourth, leaving 2 st. K2tog. Repeat around. When I got to the top, I made an attached ball. Easy as can be.
While randomly surfing a few weeks back I ended up at the
Shetland Museum
site. They have an extensive online photo archive, so I searched my last name. The Morrisons came from there originally.
This sweater
caught my eye. It's in the first picture that comes up from that search. I quickly charted out the colorwork in the sweater. I think it looks more Faroese than Shetland, but there's been a fair amount of communication between the two cultures over the centuries. But I really like it. I'm swatching some colors now, though not sure how successful my first choices will be. Stay tuned. As for the guy in the picture, he's probably some 9th cousin 15 times removed or something.
Funny (well, kind of in a sick way) thing the Little Emperor said yesterday morning. We were getting ready to go out the door to school and he said, "That person made a poor choice, who shot Martin Luther King." I'm thinking, it goes a bit beyond a poor choice! Of course, this is the kind of language that the school uses for disciplining children with behavior issues. It's never about being bad; just about making good choices vs. poor choices. So, in the discussion of MLK the kids all learned that the assassin made a poor choice. My tax dollars at work.
Hey, did you know that it's National Blog De-lurking Week? Or if it isn't now, it will be soon. All you readers who never comment are supposed to pipe up and at least say "Hi" just once. I'll have to think of a great controversy or post an all-out rant. That always seems to stir up comments.
It's possible that we will get a measurable snow fall this weekend. I'd about given up.