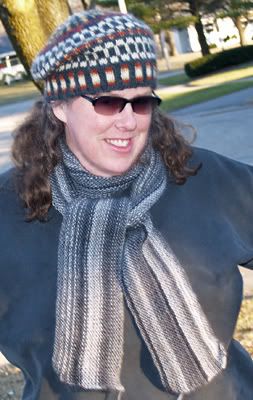 I found over three skeins of the Perendale yarn from my favorite plain grey sweater and it was a close enough match for this project. I can confidently assert that there was not a bit of waste of the Rowan Tapestry. The only snippet left over will be about 5 inches from where I darn in my cast on tale.
The Rowan Tapestry is nice. It is a 70% wool/30% soy protein single, DK weight, with long gradual color shifts. It's considerably more consistent than Noro yarns and the color combinations are more conventional. I encountered no bits of plant matter. I had one reknotted break in the two balls I used. Often Noro users find multiple breaks within a single ball. There were a few thicker areas, but no very thin ones and the twist was consistent overall.
On the whole, I'd recommend it as a nice yarn for accessories that don't have to take hard wear. I don't know, but I suspect it might be prone to pilling. It would probably work very well for any of the entrelac scarves, like Lady Eleanor, that people often do in Noro.