Sometimes you just need something simple. I've been trying little ideas out with this Rowan Tapestry here and there since I bought it. I consider it an extravagance at $9 per 50 gm ball. I only bought two balls, figuring that was enough for a trial run of
something
, but not knowing what that might be. Two balls would be plenty for a hat. But, of course, I had a scarf call to me for this yarn.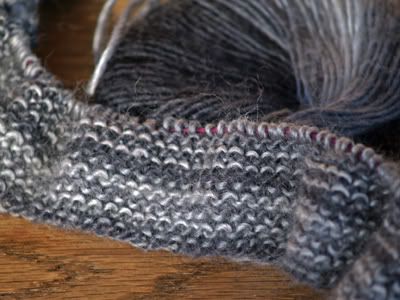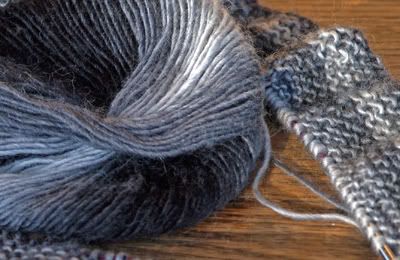 I decided to simply do a garter stitch the long way. How much more basic does it get? What I was thinking about, but wasn't in the mood for the doing, was the
So-Called Scarf
stitch pattern, the long way. I still think that would make a pretty cool effect. Or some multi-directional effect. There's a lost scarf hanging on a tree along my current walking route that is a multi-directional garter stitch scarf in a solid cadet blue yarn. I keep thinking I should stop and look at the technique, because it might be really interesting in a subtly changing yarn like this.
Anyway, I ran out about 16 feet for a long tail cast on and used the tail to form the stitches. I didn't count the stitches. I used a #10.5 needle for the cast on, because I've learned I need to or I get a tight cast on. Then switched to a #7 needle for the work. The first ball went about 2.3 inches. So, unless I go looking for a third (and find it) this scarf will be on the skimpy side. Let that be a lesson to you: plan on 150 gms or more for a scarf. I guess I'll decide how I feel about the width when I get it off the needle and really see the length.
We are finally having some sunshine here. Still above freezing temps. But with a brisk wind blowing and overnight lows in the 20s, it feels a little more like winter. I've got chicken and barley soup slowly cooking for dinner. This is one we all seem to agree on. Barley is a great secret ingredient for improving homemade soups. It took me a number of years to really understand how to make good soup, but I think I've got it now.
As for Resolutions, I don't make them. I never have. It strikes me as so contrived. And doomed to failure.
Every day I pray for another day sober and for help treating every human I meet with love and kindness. And I say thanks for all the sober days so far. And I figure the rest of it takes care of itself. These prayers do not come easily to me. I'm not really a love-and-kindness kind of person. A former employee once told me I was "rude, cruel, power-hungry, and abusive."* So, it's all about progress for me. The peole I most admire are the people who have the courage to be open, to let down their guard with humanity at large, and risk kindness. Sarcasm and anger are easy. Love and kindness are a daily struggle for me.
Happy 2007
*I was sober about 8 years at that time, so it wasn't just alcohol that made me like that.
Post script
Having said all that, I look in at
Penny Karma's
blog and see this resolution maker. I click the link and get this:

In the year 2007 I resolve to:
Learn how to shear sheep.
How could I resist?