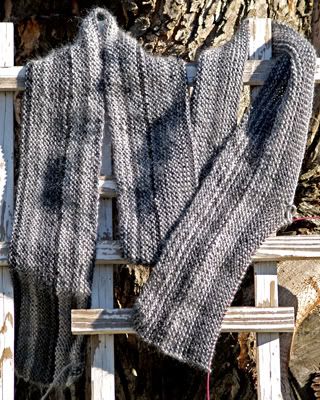 Last night as I approached the end of the second ball of Rowan Tapestry, I figured I'd better estimate how much it would take for binding off. I counted all the stitches and found I had exactly 300. I guess my brain likes nice round numbers even when I'm not paying attention. I measured my gauge and got around 9 st:2 inches. So, that worked out to somewhere under 6 feet for the length. I figured I needed around 6 yards per row and maybe a bit more for bind off. Using my old sewing guess-timator, of one outstretched arm to my nose, I figured I had about 14 yards left. Perfect. One more row and enough to bind off. Best laid plans and all that...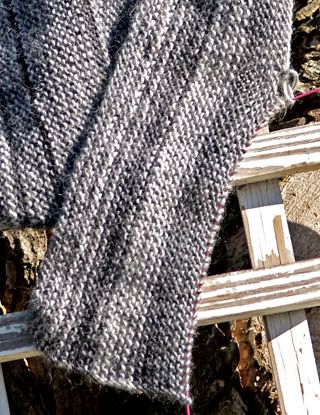 As I got to the last 100 stitches to bind off, I realized I was eating up my tail much faster than I was binding off the stitches. But still I soldiered on. I do have a Plan B. I was wearing my favorite grey sweater. It's made from a worsted weight grey single yarn, slightly rougher hand than the Tapestry, but still, I think it'll work. I have to dig the extra from the stash and splice a couple yards on and see what I think.
Plan C is to go back to the yarn store and buy one more ball, frog back the bind off, make the whole thing wider, and have enough left over for a little fringe.