The kids went back to school on Monday, which was a tremendous relief. The worst of the beastly behavior has subsided now that Gimme Season has ended and they are back in their routines.
I've been puttering on stuff without a lot to show for it. I thought I'd be able to get a self-timer picture of the new hat, but between the clouds and the tendency of the camera to focus on the stuff behind me because I'm not in frame yet, this is the best I could get.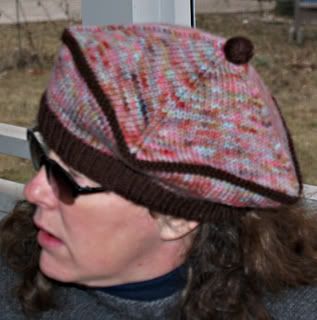 This hat is kind of like a beret, but with a squarish top. I used some of the yarn that Shelagh gave me in the summer and I dyed with Wilton's with the kids. The brown is Paton's Classic Wool. This is a style that suits my face shape pretty well. If I get Mr. SABLE and a bit of sunshine at home at the same time, I'll get a better pic.
This is a swatch I made from the Paton's Classic.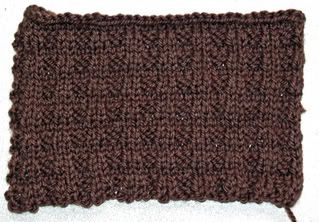 It looks better in person than it did in this photo. Just knitting and purling, but it manages to look rather deeply textured. I'm thinking I need a durable cardigan. I generally prefer pullovers for a number of reasons. I don't really make buttonholes very well, although I'm getting better. I don't like the way cardigans pull against my bust and belly unless they are very large and shapeless. I like a relatively uncluttered front because of the bust and belly. But, I find that I need to adjust my temperature a lot more these days. I get very cold sitting at my computer and put on a sweater. I go down stairs and start to cook or do a little cleaning, and as soon as I'm in motion, I'm too hot. Sit down for a break to read the paper: oops, cold again. And so on. So maybe a cardigan is the answer to some of this. Maybe with a zipper, so I can avoid the whole button issue.